About biking on Aeroe ... ... ..
Biking on Aeroe is about family fun, serenity, exercise, wellness and relaxation.
Aeroe, the southernmost island in the archipelago of South Funen is made for biking. You will feel the utmost relaxation when moving through the Aeroe countryside. The terrain changes from flat land in the eastern part of Aeroe over majestic hills surrounding the town of Marstal to hilly terrain in the middle and western part of the island – reminiscent of the rolling hills of Tuscany. Here the landscape is punctuated by pine-like stone-poplars in hedgerows and undulating grain and rape fields.
Along the road meandering gently through the island, you will pass through vast open landscapes with fields and small picturesque villages with half-timbered houses.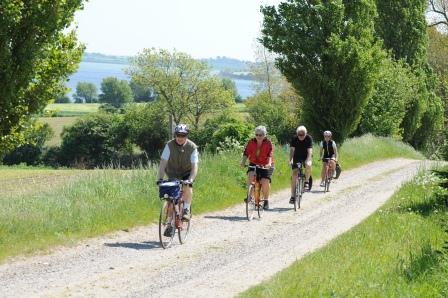 While biking you will rarely be without a view of the ocean and on certain trails you will drive with a clear view of the Archi-pelago of South Funen on one hand and the Baltic Sea on the other.
The light on Aeroe is uniquely clear and intense, created by the vast open skies and the ocean's reflection of sun light.
You will rarely be on tours without a view to the ocean and on certain roads you drive with a clear view og the Archipelago of South Funen on one hand and the Baltic Sea on the other. The light at Aeroe is unique, open skies and ocean reflection of the sunlight gives a very clear and intense light.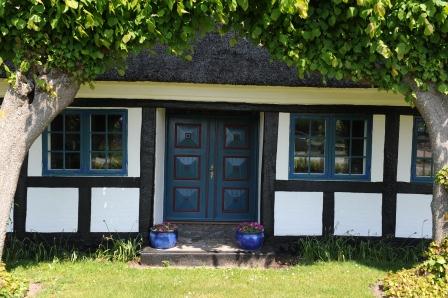 A bike ride on Aeroe is balm for your soul and body. You will experience total silence broken only by birdsong and croaking frogs while scents from the island´s many flourishing gardens and fields soothe your soul. And while the wheels spin you will notice every detail of the landscape; a cat in front of beautifully painted doors of the thatched house, swans and ducks taking off from the cove and merchants' stalls by the roadside offering honey, strawberry, or cherries. You can stop anywhere and rest in the grass with a cup of coffee or go for a refreshing swim in the ocean.
Aero is world class fun for children of all ages. Your are never more than 10 minutes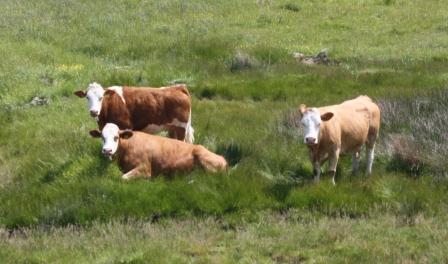 from the beach and horses, cows and sheep on the fields are happy to put up for padding. If you pack a picnic, you'll find that it tastes a 1000 times better in the fresh air at "Ommelshoved" or "Voderup Klint."
Traffic is minimal on Aeroe, and the bike trails in the book "5 Cycle Tours on Aeroe" are planned on roads with limited or no cars. Only in cases where there is no other option, will you follow main roads with a bit more traffic. In the few instances where you do encounter traffic you will see that drivers on the island are extremely mindful of bikers.
Why is biking so popular in Denmark?

See this CNN Video (2011) from the Danish Capital, Copenhagen explaining why the bike is such an integrated part of Danish life. Click here
| | |
| --- | --- |
| Go back to information about the book | |
| Go directly to the purchase of the bike guide | |